Define Your Life-Long Learning Strategy
With Our Expert Help
Executive training programs can cost anywhere between $5,000 to $100,000. It is our job to make sure you invest that money wisely.


We offer strategic life-long learning consultations with top experts in the field of management education. Book a session with them to establish strategic goals and objectives in your professional learning and development.
Also we guarantee that after speaking to us you will: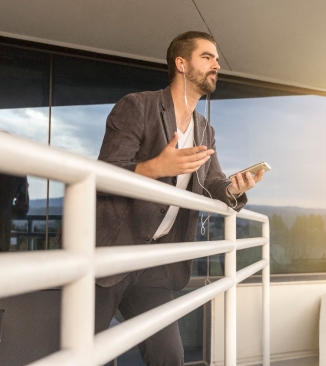 Learn how best to advance your career

Make an Informed Decision With Our Help
Understand the best learning options based on your own preferences and skill profile

Make an informed decision and a wise investment in your future

Ilya Breyman
Co-Founder and CEO, Coursalytics
Alex Dolinskiy
Co-Founder, Coursalytics
Alex Dolinskiy is a scholar, consultant and educator specializing in international education and communication. He is a co-founder of Coursalytics Inc., an executive education marketplace.
Alex contributed to research projects of Harvard Berkman Center for Internet and Society and taught at Moscow State University. He graduated with a Master's degree in Law and Diplomacy from the Fletcher School and defended his PhD thesis in political science at Moscow State University of International Relations. He also holds a BA and MA magna cum laude from St. Petersburg State University and Moscow State University of International Relations.
Ilya Breyman is the CEO and co-founder of Coursalytics Inc., an executive education marketplace. Prior to this, he was the co-founder and Managing Director of Talent Equity Ventures, a seed-stage corporate VC focusing on HR and Education Technology.
Ilya was also the Non-profit and Education Practice Leader at a leading HR consulting firm in Eurasia, where he conducted high-level executive search projects, as well designed and facilitated executive development sessions. Ilya holds bachelor's and master's degrees from Georgetown University, as well as Master's in Education Entrepreneurship from University of Pennsylvania.
We provide discounts for certain categories of professional groups.
Check if you qualify for a discount
We have the largest database of online and in-person executive level courses all over the world
We have been advising hundreds of executives and managers for over 10 years
We spoke with thousands of senior managers, executives and entrepreneurs to identify their learning goals and best education opportunities to match those goals

We analyzed tens of thousands of executive education courses, participants profiles and their unbiased reviews of the courses they took



— Why do I need advice to select an education program?
Understanding what a specific program offers is hard even for experienced learners. It takes years to learn how to read between the lines of course descriptions to understand what actually happens in the classroom. Spending thousands of dollars without having the right expectations is risky and often makes participants feel uncomfortable and end their program with dissatisfaction.
You get a professional's view on your career trajectory, your future professional and personal development plans. Our expert will help you decide what programs can help you achieve your goals in the most efficient way based on thousands of executive learners' experience that we track and analyse.
— Don't schools offer course selection consultation for free?
They most certainly do. However, how likely it is that a school employee will recommend you a better course with their competitors? Would you send clients away from your products' to your competitors'? Even if you were willing to make that choice, chances are you will do so unfamiliar with alternative options. Our experts, on the contrary, will provide you with highest quality, objective expertise based on your concrete needs and preferences.
Individual Short Course Selection
30-minute consultation

Career Plans Review

Selection of 1-3 courses based on individual learning needs
Becoming a Life-Long Learner
Five 30-minute sessions

CV/Resume, Career, and Life Plans Analysis

Deep dive into individual life-long learning benefits

Analysis of personal obstacles to effective learning

Detailed multi-year life-long learning plan based on career and life goals
Long-term learning strategy of executive team
For Business Owners only

1-hour Strategic discussion with the Owner to discuss organizational priorities

Individual sessions with up to 5 key executive team members

Resume, CV, 360 degree reports analysis

Detailed multi-year life-long learning plan based on organizational and individual learning needs
Individual Life-Long Learning Strategy
45-minute consultation (or two 20-minute consultations)

CV/Resume and Career Plans Analysis

Deep analysis of life-long learning options (MBA, EMBA, online, short courses etc.)

Detailed multi-year life-long learning plan based on career and life goals
OUR ADVICE GETS APPRECIATED
Country manager with a European company
"Thank you very much for your advice! The course was outstanding! I have tremendously enjoyed it! I liked that all the facts, information, cases and frameworks were very new, not outdated. The course was very intense, participants interaction was very well organized. Overall, I had an impression of an outstanding school. Thank you so much for convincing me to choose that school. Now I understand what you meant when you described the course"

Nonprofit fund CEO
"It was a bit spontaneous decision, but everything in life comes at the right moment. The course I took coincided with a large transformation in our organization, so the new knowledge came in very handy. Coursalytics' experts' recommendations helped me make the right decision"

Copyright © 2019 Coursalytics
We have already helped hundreds of high-profile management professionals fulfill their learning needs, are you next?